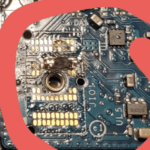 Computers rather not drink
Has your computer ingested water or some other liquid? DON'T try to just turn it on and see. It only takes a little bit.
If your electronic has gotten wet and is not waterproof – schedule a appointment to have it checked out. Electronics are fragile. Without inspection the user doesn't know where water has gotten. In this image the spill intruded into a connector which carried power. The beer caused the circuit to short and fry the computer. Will Get I.T. Done can help with some spill damage. We will help you make a informed decision once we have all the information.