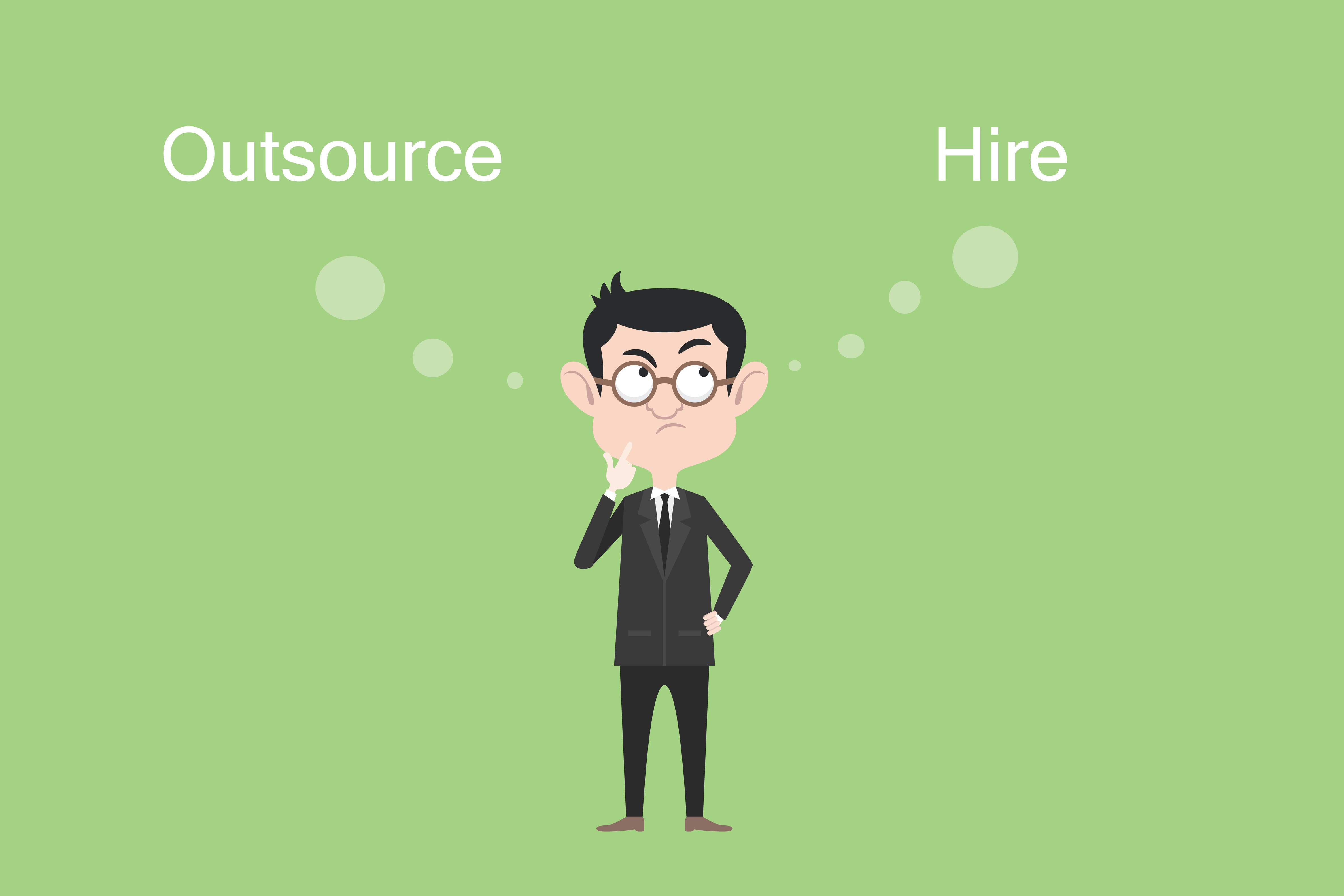 Many small businesses face the decision of whether it's best to outsource IT services or hire someone internally. We are here to help your business make these decisions using by applying best practices based on your needs. We have summed up the benefits of both to help you choose the best case for your business. If you have questions, please call us to discuss the benefits of outsourcing IT vs hiring internal staff.
Benefits of In-house IT staff
Like with all job duties and responsibilities, there are advantages and disadvantages of having internal help. When it comes to internal IT help, there are three big advantages:
They know the systems and people well. In-house staff will better understand how staff members are using technology. This not only helps on a relational level, but it also gives the staff member insights which can help prevent future problems.

Small daily tasks can be done quickly. Computer updates, resetting logins, and other technical issues businesses run into on a daily basis can kill productivity. Having someone internally allows the business to respond immediately keeping productivity up.

The business has more control. When a business has its own internal support, it allows them to control who has access to their network, what software is utilized, how projects are being shaped, yearly costs and other aspects of the job.
When it comes to in-house staff there is a certain familiarity and consistency they bring. As issues come up the business can remain agile because there is someone there who can address the issue immediately.
While having internal staff is great, there are also benefits to outsourcing IT.
Benefits of Outsourced IT
There are reasons why so many consultants, contractors and service providers exist. The IT industry is no different. Businesses gain many benefits from outsourcing their IT support. Here are a few of those benefits:
It's oftentimes more cost-effective. When hiring outside help. There's no need to pay taxes, benefits, and other costs associated with hiring staff members. This is especially beneficial if your business doesn't have long-term projects.

They bring increased expertise. Not every IT professional has the same skill sets and expertise. By hiring services out, a business is not only getting a higher level of expertise but the IT company generally has a team of experts who together, are knowledgeable in many areas.

There's better scheduling and access. With an outside company, you don't have to worry about time off, sick leave, or vacation time interfering with the work that needs to be done. These things will somewhat interfere with an IT company, but because they often have a team of individuals if someone is out, they can still get the job done.

The business can better utilize its resources. Outsourcing provides flexibility in how resources are managed. If a business has IT needs, they don't need to worry about diverting any of their internal resources to focus on the issues because an outside source will take care of it. This is also true for businesses that have internal IT staff but don't want to take them from their daily focuses to handle unusual projects that come through.
IT services for businesses can vary from managed IT services to individual one-off projects such as computer setups and software support. Having an outsourced team of experts improves a business's ability to handle projects that come up, remain flexible, and manage their IT needs cost-effectively.
Choosing the Best IT solution
With really great benefits for both outsourcing and internal staffing, what's the best decision? The best decision really depends on the wants and needs of the organization. Is price important? How about ease of access? What type of projects need to be handled? Are there certain skill sets necessary for the projects that need to be completed?
Finding the best IT solution is not always black and white, but there are some good guidelines to follow which can help you choose:
Choose In-house if:
The business wants more control over what's done

There are a number of daily tasks which require someone in the building to accomplish

You can find someone with most or all the skills you need
Choose outsourced help if:
You need help immediately

You don't have the time or manpower for specific tasks

The in-house expert doesn't have the necessary expertise
In some cases, an organization may decide to staff an internal IT department but still outsource specific tasks or projects.
A business may use an outside company for managed IT services, while an in-house IT support staff is there for daily computer help for the employees. Another example is when companies hire outside help for their IT staff to get a job done more quickly and efficiently.
So as a business, what are you looking for? Answering this question internally can help you decide the best solution for you.
If you have questions or need to know more about available IT services, please reach out to us and ask.