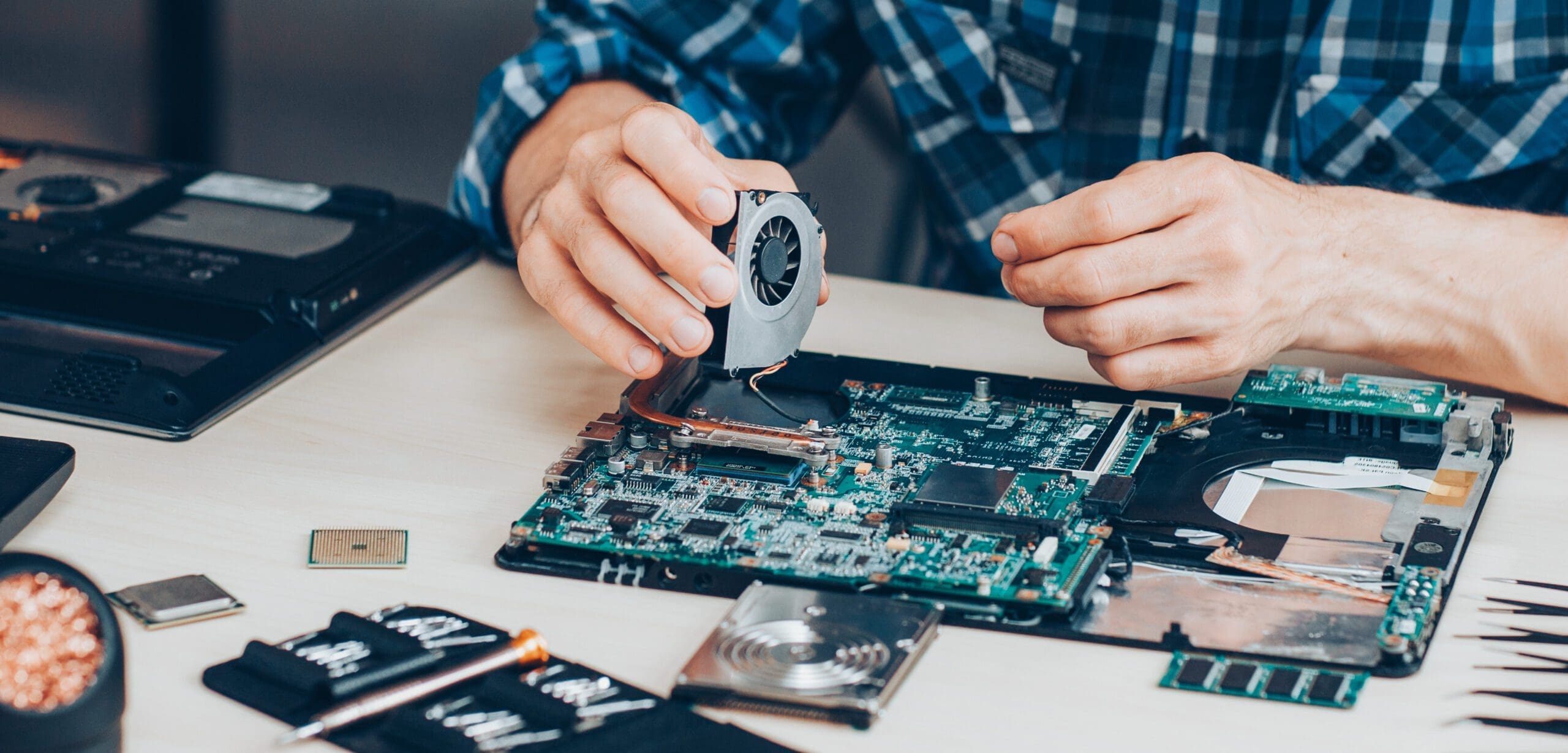 Call Us @ (443) 336-0491
Have you dropped your laptop? Is it acting funny or running slowly? Does it seem to be growing louder as time goes on? Before you decide to replace it completely, consider having your laptop repaired.
Repairing a laptop can save you money and can save you from dealing with the headaches of losing data or attempting to move data from one broken device to a new one. Oftentimes, laptop repairs are quick and one can have their device back and running smoothly in no time.
Whether it's a Mac or PC, whether the screen is broken or the mic stopped working, or whatever the reason, before replacing your laptop try to have it repaired.
Laptop Repair Services
Computers can break for a number of reasons. Mechanical components can wear out, batteries die, viruses invade, and us as humans tend to have accidental drops and spills. Sometimes a repair is an obvious need (i.e. broken screen) other times, there are indicators that tell us something is wrong.
Because so many different things can happen, there are many laptop repair services available to you.
Computer diagnosis
Hardware repair and replacement
System tune-ups
Software setup, installation and troubleshooting
Virus and Spyware Removal
Data recovery
If there's something wrong with your laptop, an IT pro will be able to help you diagnose and fix the problem. No matter if it's a hardware issue like a broken screen or fan, or a software issue, laptop repair is likely an option.
Some computer repair businesses (like us at Will Get IT Done) even offer emergency rush service when you need your laptop repaired ASAP. (Check out all of our computer repair services.)
While having computer issues isn't an ideal situation for anyone, at least you know there are solutions available to get you back up and running.
The Laptop Repair Process
For many of us, our computers and laptops are an important part of our daily lives. Some worry, especially when their devices are still somewhat functional, that the laptop repair process will require too much time away from their device or potentially cause further issues.
However, they may be surprised at how straightforward the process actually is.
First, the issues are diagnosed

Is it a virus, physical damage, piece of hardware, etc.

Next, an estimate is provided and the customer can choose whether or not to allow the company to go forward with the fixes
If necessary, the repair tech will order any necessary parts needed to fix the issue
Now the work on the device can begin

In some cases, the fix can happen remotely while other times onsite support is required.

Once the device is fixed, any necessary software such as virus protection can be installed
Then the laptop is returned to the customer
The laptop repair process can be quite painless and relatively quick for the customer. We try to ensure that our repairs are not just carefully and thoroughly done, but that we do so with a quick turnaround time.
As long as you choose an experienced professional IT computer repair technician, there's no need to worry.
Laptop Repair Costs
For many, the biggest hesitancy to repair their laptops is the potential cost. While some have financial concerns, many are really asking themselves "is it really worth it to repair the laptop?" It makes sense. If a device is an older model, it could make sense to replace it instead of repairing it. That's a decision best made after discussing with a professional.
The average cost of laptop repair in the Annapolis area is around $350-500. While this gives some insights costs can range greatly from company to company and is largely dependent on what needs to be repaired. Will Get I.T. Done offers a free 15-minute phone consultation and value analysis for this sort of service.
Laptop repair costs are broken down into several factors:
The company's hourly rate
Required time to complete the project
Cost of replacement parts
Additional services such as upgrades or software add-ons
If you really want to know how much your laptop repair will cost then contact an IT professional and have them provide an estimate. Based on their initial diagnostic they will have an idea as to how much the fix will cost you.
Once you have this information you will be able to determine for yourself if it's worth it to repair your laptop or if you are better off replacing it.
How to choose an IT Pro to Fix your Laptop
When it comes to laptop repair, or any IT service for that matter, who you choose is important. As a consumer, you have many choices both locally and nationally. You can also choose between a local provider (Like Will Get IT Done) and a national chain (i.e. Geek Squad), but you can also choose between internet support-based businesses and onsite support.
With so many options available it can be difficult to know the best option to choose. Fortunately, there are a few guidelines to consider to help you find the right person for the job.
Are they experienced?
Does their response time fit your needs?
Do they have affordable pricing?
Of course, you want someone who is going to get the job done right, but you also want to ensure the job is done in a timely and financially reasonable manner. By reviewing the company's website and checking out their reviews online, you can often times get a good understanding of the service they will provide.
(For more insights on choosing an IT professional, check out this article)
At Will Get IT Done, we excel where other IT companies fail. National chains often have long waiting lists, while we try to get to our clients within the week (sooner with emergency service). Where others decline jobs that are too large, too small or not in their specialty, we are nimble and experienced enough to take on most jobs. From residential computer help to business IT needs, we offer the type of service people expect from their IT company.
When it comes to choosing your IT pro, you shouldn't have to settle. Find an IT professional or company that is going to provide the best service you need.